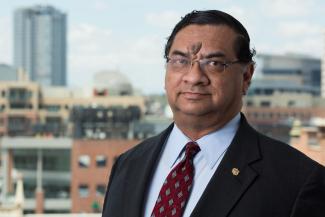 Associate Professor
Finance
Before he moved to USA, Ajeyo Banerjee, PhD, worked as a credit analyst at the State Bank of India, the largest commercial bank in India. In addition to a Master's degree in Physics, Banerjee is a Certified Management Accountant, and a Certified Banker. He has held visiting professorial positions at the edhec Business School, Lille, France, and the Indian Institute of Management, Calcutta, India.
Banerjee's research interests are in mergers and acquisitions, international corporate finance, governance structures in organizations, and the impact of risk on value. He has published in top economics and finance journals like The American Economic Review, The RAND Journal of Economics, Journal of Corporate Finance, Financial Management, and Managerial & Decision Economics.
In 2007, Banerjee received the Business School's Dave Laube Community Impact Award. In 2004, he was awarded the Business School's Jim Basey Term Professorship Award for Leadership and Innovation. In 2005 and 2006, The Denver Business Journal invited him to be in a panel of academic M&A experts to select the best business acquisition in the state of Colorado. 
Education
PhD Finance & Econometrics, University of Massachusetts, Amherst
MBA Finance, University of Massachusetts, Amherst
MSc Physics, University of Delhi, India
BSc Honours in Physics, University of Delhi, India
Areas of expertise
Mergers and Acquisitions
Corporate Finance
Emerging Markets
Governance Structures in Organizations
Research
Financing patterns of corporations in China and India
Voluntary public financial disclosure in an unregulated environment
Private Equity: Does it add value in the long run?
Bank Mergers since the 2007 Great Recession
Publications and Presentations
"Don't Do It: Reverse Mergers Revisited," Financial Management Association Annual Conference, 2013 (with A. Gygax and J. Chan)
"Does Transparency Add Value," 2008 (with A. Gygax)
"Why Regulate Insider Trading? Evidence From the First Great Merger Wave (1897-1903)," American Economic Review, 2001 (with E. Woodrow Eckard)
"Are Mega-mergers Anticompetitive? Evidence From the First Great Merger Wave," RAND Journal of Economics, 1998 (with E. Woodrow Eckard)
"Impact of the Nature and Sequence of Multiple Bids in Corporate Control Contests of the Eighties," Journal of Corporate Finance, 1996 (with James E. Owers)
"Changes in SEC Disclosure Rules for Executive Stock Options: Implications for Valuation," Journal of Accounting, Auditing, and Finance, 1995
"Managerial Incentives and Corporate Control Auctions," Managerial and Decision Economics, 1993 (with James E. Owers)
"Wealth Reduction in White Knight Bids," Financial Management, 1992 (with James E. Owers)
"Dutch Auction' Shares Repurchases," Financial Management, 1991 (with J. Owers and A. Banerjee)
Awards
Organizer, first business school International Symposium "New Directions in Commodities Research," August 10-11, 2017, 80+ participants from 10 countries
CME funded two new e-publications, monthly Global Commodity Issues (Editor's Choice) at SSRN.com, and half-yearly Global Commodities Applied Research Digest (GCARD) at jpmcc-gcard.com, 2016
CME Group Foundation Commodities Research Grant, $175,000, 2015
Jim Basey Leadership Award ($30,000), Business School, University of Colorado Denver, 2014
South-Western Deans Bizzell Award (awarded by Bloomberg) for Innovative RMI Program – Honorable Mention, 2014
Architect and first Director, new Risk Management and Insurance Program funded by Pinnacol Assurance ($5 million), 2010
Dave Laube Community Impact Award ($5,000), Business School, University of Colorado Denver, 2007
Jim Basey Innovation and Leadership Award ($30,000), Business School, University of Colorado Denver, 2004
Faculty Research Grants, Teaching Development Grant, University of Colorado at Denver
Outstanding Service Award, Business School at the University of Colorado at Denver, 2002
Corporate Finance Best Paper Award, Eastern Finance Association meetings, 1990
Sheaffer-Eaton Academic Excellence Award, University of Massachusetts, Amherst, 1987
Ranked 2nd in India in cost accounting certification examination, 1981
Affiliations
Content Expert: American Council on Education, Washington DC
Reviewer: National Stock Exchange of India Research Grant Projects, Managerial and Decision Economics, California Management Review
Chairperson/Discussant/Program Committee: Financial Management Association, Eastern Finance Association past annual meetings
Member: Financial Management Association (FMA), Institute of Management Accountants (IMA), Global Association of Risk Professionals (GARP), Institute of Cost and Management Accountants of India (ICMA), Indian Institute of Bankers (IIB)
Credit Analyst: State Bank of India