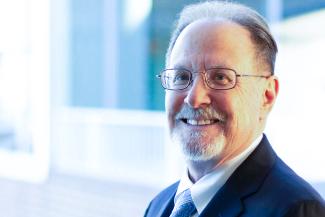 Director of Daniels Fund Ethics Initiative • Senior Instructor
Business Law • Daniels Fund Ethics Initiative • Management • Managing for Sustainability
Ira Selkowitz is licensed as an attorney in Colorado (active) and California (inactive). He has taught at the Business School since 1986, first as an adjunct instructor, and beginning in January 2006, as a full-time senior instructor. Prior to accepting the senior instructor position, Selkowitz was the director of preservation services for Historic Denver, Inc., a nonprofit organization in the field of historic preservation.
From 1983-2003, Selkowitz had his own law practice, specializing in business law and entertainment law, including business planning and intellectual property issues. In addition to his private law practice, from 1994-97, Selkowitz worked as a booking agent and in-house counsel for the artist representation firm, Scott O'Malley & Associates, in Colorado Springs. For the three-year period from January 1999 to December 2001, Selkowitz was the executive director of Colorado Lawyers for the Arts.
Selkowitz is the Director of the Business School's Daniels Fund Ethics Initiative.  He received the Business School's Instructor of the Year Award in 2008 and 2015. Selkowitz also teaches continuing education programs for attorneys and paralegals in the areas of intellectual property, entertainment law and historic preservation and he attends many professional development seminars and courses to stay current in his areas of expertise. He has completed a one-week course, Managing Ethics in Organizations, offered at Bentley University in Waltham, Massachusetts, and the 10-week course, Business Ethics: Education and Organizational Best Practices, offered online through the University of New Mexico Anderson School of Management.
Education
JD, University of Denver
MA, Goucher College, Historic Preservation
BS, Northwestern University
Areas of expertise 
Copyright and Trademark Law
Historic Preservation Law
Music Law
Public and presentations 
"Trademark Law Fundamentals," National Business Institute, September 2018
"Music Law: From Start to Finish," National Business Institute, July 2018
"Entertainment Law," National Business Institute, August 2016
"Copyright Law for Paralegals," Institute for Paralegal Education, April 2016
"Historic Preservation Law 101", National Business Institute, February 2014
"Copyright Law 101", National Business Institute, April 2013 and September 2014
"Music Law 101", National Business Institute, December 2012 and September 2015
"Rescission of Recording and Publishing Contracts." Entertainment Law & Finance, January 1999.
"Tips on Removing Trademark Suits." Entertainment Law & Finance, November 1986.
"A Well-Kept Secret: Informal Adjudication in the Copyright Office - A Freedom of Information Act Violation?" 35 Ad. L. Rev. 133 (1983).
Awards
Instructor of the Year, Business School, 2008 and 2015