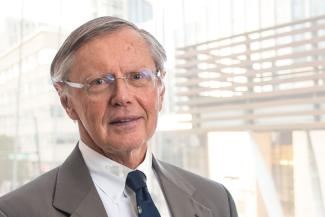 Senior Instructor
Finance • Managing for Sustainability
John Byrd, PhD, teaches MBA Finance and Managing for Sustainability classes through CU Online. His course on Business and Global Climate Change is one of very few such classes in the country. He was awarded the Outstanding Teacher Award at the Business School in 2009.
His current research focuses on corporate sustainability, especially context-based sustainability, corporate sustainability reporting, and climate change. He is currently working on projects examining companies that have implemented an internal price on carbon, and how carbon capture technology affects firms in the fossil fuel industry. He and Beth Cooperman are examining the conditions that help make female directors value creators when they join corporate boards.  An early paper (Byrd & Hickman, JFE, 1992) was named one of the influential papers in finance. His research has been published in the Journal of Financial Economics, Financial Analysts Journal, The Journal of Portfolio Management, Contemporary Accounting Research, and the Journal of Banking & Finance. He has co-authored three finance textbooks.
With Ken Bettenhausen he created a four-course MOOC on the Coursera platform titled Become a Sustainable Business Change Agent.  As of January 2019 it had over 2,500 students enrolled.
Prior to attending graduate school, he worked as a mountaineering and raft guide.
Education
Ph.D. Finance, University of Oregon
MPPM Finance and Public Policy Analysis, Yale University
BA Mathematics, Fort Lewis College
Areas of expertise
Corporate Sustainability
Business and Climate Change
Context-based Sustainability
Working papers
 "Internal Corporate Carbon Pricing: An Analysis of Carbon Emission Reductions for U.S. Companies" (with Elizabeth Cooperman)
"Optimal Asset Replacement During The Transition To A Low-Carbon Economy: A Discussion Of Key Variables" (with Mallory Byrd).
Publications and presentations
"Investors and stranded asset risk: evidence from shareholder responses to carbon capture and sequestration (CCS) events." Journal of Sustainable Finance & Investment, Vol 8 Issue 2, January 2018 pp.185-202. (with Elizabeth Cooperman)
"Corporate Social Responsibility Reporting in Controversial Industries." International Review of Accounting Banking and Finance, Vol. 8 (2), Summer, 2016, 1-14 (with Kent Hickman, Richard Baker and Bruno Cohanier)
"Accounting and Economic Biases in Donations to NGO's: Is Scaling The New Overhead Myth In Charity Giving?" International Review of Accounting Banking and Finance, Vol. 8 (3), Fall, 2016, 55-63 (with Jane Cote)
"Organizational Commitment to Climate Change and GHG Reductions." International Review of Accounting Banking and Finance, Vol. 7 (2), Summer, 2015 114-145 (John Byrd, Ken Bettenhausen, and Elizabeth Cooperman)
"Carbon Bubble & Divestment Trouble: Investor Reactions: An Analysis, May 2015, Journal of Environmental Investing, Vol. 6 (1) 75-86. (John Byrd & Elizabeth Cooperman)
 "Determinants of Corporate Carbon Reduction Targets," Interdisciplinary Environmental Review, Summer 2014, Vol. 15 (4), 271-289 (John Byrd, Elizabeth Cooperman, & Ken Bettenhausen) (Journal of the Interdisciplinary Environmental Association)