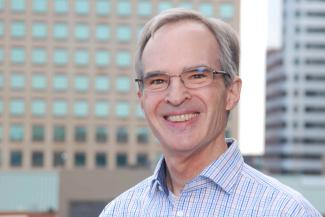 Senior Instructor
Finance
John P. Daley's most recent research effort was completing the second edition of the book he co-authored with Dr. James Morris, Introduction to Financial Modeling for Management and Planning. His current research interest is polishing a course on strategic risk management.
Since joining the CU Denver Business School in 1999 as a part-time lecturer in finance, Daley's primary focus has always been teaching. He has prepared and taught eight different courses, including four courses from whole cloth as the topics were too new to have had textbooks written for them. His teaching interests range from investment management, to corporate financial modeling, to behavioral finance and, most recently, to corporate and strategic risk management. He has been teaching online since 2001.
In 2010 Daley retired from what had been his primary position for 32 years, principal trombone of the Colorado Symphony, to become a full-time senior instructor and assistant director of the risk management and insurance program. In 2014, he was honored as the Business School's outstanding non-tenure track instructor of the year. That same year he was also voted the Professor of the Year of the 11-Month MBA program.
In addition to having been the Colorado Symphony's principal trombone prior to joining the Business School, Daley has performed with the Los Angeles Philharmonic Orchestra, the Seattle Symphony, the Kansas City Symphony, the Grand Teton Music Festival, and the Summit Brass.
Education
PhD Finance and Business Economics, University of Washington
MBA, University of Colorado Denver
MM Trombone, University of Southern California
AB Psychology, Stanford University
Areas of expertise
Corporate Financial Modeling and Risk Management
Publications and presentations
Daley, John P., 2010, Broad-based employee stock ownership incentives and contracting efficient, International Review of Accounting, Banking and Finance, v.2, pp. 44-68
Morris, James R. and John P. Daley, 2009, Introduction to Financial Models for Management and Planning (Boca Raton, FL: CRC Press, Taylor and Francis Group)
Morris, James R. and John P. Daley, 2017, Introduction to Financial Models for Management and Planning, 2nd edition (Boca Raton, FL: CRC Press, Taylor and Francis Group)
Awards
Non-tenure track Teacher of the Year, Business School, University of Colorado Denver,2014
Professor of the Year, University of Colorado Denver 11-month MBA program, 2014
Affiliations
Member: Risk Insurance Management Society (RIMS)