The fastest way to get ahead
AT A GLANCE
    Credit hours: 45
    Full-time
    Format: Five-week terms, cohort
    Start term: fall only
One year is all it takes to launch your career.
You bring the hard work and dedication. We'll provide the rigorous coursework and real-world experience. We focus on providing you the skills to be successful in the business world. Support services and industry-specific opportunities offer a competitive advantage in the workforce.
Accelerated pace
innovative five-week course structure
Gain experience 
competitive paid internships or consulting projects
International course abroad
gain global insights during a course abroad
Build your network
grow relationships in the classroom through a cohort structure
All majors welcome
no formal business education or experience required
Class Schedule:
Mondays or Tuesdays: evenings, depending on the term
Wednesday: 6:00-9:30pm
Friday: 8:30am-12:00pm, 1:00-4:30pm
The One Year MBA is the fastest way to earn your MBA and gain valuable work experience at the same time. The program includes a fast-paced curriculum based on today's business world with time for innovative electives that offer relevant specialized content. Competitive paid internships, or consulting coursework with the possibility of a paid graduate assistantship, add experience to your degree. Classes are held in person, which provides valuable interactions with faculty and classmates.
The program consists of 8 five-week terms and an international course abroad. There are occasional breaks between terms. You should expect approximately 10 hours a week in class, with another 25 hours as an estimate for homework, studying, and group projects outside of class.  Please note that these estimates do not include the possible time spent at an internship/assistantship or time needed for consulting coursework, which generally will add another 20-25 hours a week to your time commitment.  These numbers are estimates only and may vary for each student. 
Our downtown Denver location gives you access to business leaders and experiences.
Gain valuable real-world experience to jump-start your career or change career paths.
Career and professional development coursework is embedded in the program.
The One Year MBA is designed so your entire core curriculum will be taken with your cohort. This structure allows you to build lasting relationships with your peers through teamwork and group presentations.
The One Year MBA program consists of 45 credit hours. Your credit hours will be made up of core courses, electives, international courses, internship or consulting coursework, and career and professional development courses.
Core courses
Core classes include coverage in the following areas:
Leading in Organizations
Data Analysis for Managers
Legal and Ethical Environment of Business
Analyzing and Interpreting Accounting Information
Marketing Management
Information Systems Management and Strategy
Applied Economics for Managers
Operations Management
Financial Management
Strategic Management
Electives
Electives are updated annually. Electives in the past have included:
Conflict Management
Advanced Corporate Finance
Negotiations
Digital Marketing Analytics
Investments
Digital Marketing Strategies
Visual Analytics for Big Data
Personal Branding
International courses
The international courses allow you to explore topics in global business. One course is taught in Denver and gives you a broader understanding of business in a global context. The second course is taught abroad and includes company site visits in a variety of industries, meetings with executives, speakers, university visits with local MBA students, and some cultural activities.
Past trips have included destinations in Asia, Europe, and South America. The trip typically includes more than one city or country to provide a basis for comparing and contrasting cultures and business practices. Visits have included:
Pfizer, Germany
BMW, Germany
Airbus, Germany
Mercedes, Germany
Hong Kong Stock Exchange, Hong Kong
IBM, France
Walmart, China
Banco Santander, Chile
DHL, China
Anheuser-Busch InBev, South Korea
University Visit: Seoul National University, South Korea
Start Up Seoul, South Korea
R/GA, Argentina
University Visit: Universidad Torcuato Di Tella, Argentina
Internship or consulting coursework
The One Year MBA program provides an experiential learning component where you can apply the knowledge you've gained in the classroom to the business world and gain valuable professional experience while pursuing your degree. We offer competitive internships or consulting coursework to fulfill this experiential learning requirement.
Internships - We partner with local businesses to offer you competitive paid internships to help you directly apply the knowledge you gain in the classroom to the real world. The program schedule allows you to participate in competitively available paid internships during the day. Interns typically work in the Denver metro area for 15-20 hours a week for six to nine months. These hours are in addition to the classroom time and outside of the classroom time for studying and group projects. Participating in one of these competitive internships will fulfill the experiential learning requirement for the program. Please note internships are competitive and limited in number.
Competitive Paid Internships Have Included:
Arrow Electronics
Simplifya
COBank 
Ardent Mills
Oppenheimer
American Furniture Warehouse
DaVita
TIAA
CU University Counsel
Consulting - Real world experience can be provided to you through consulting projects with local companies. This option is available to anyone who will continue working at their current employer (with reduced hours) or for anyone who does not secure an internship. The consulting coursework will fulfill the experiential learning requirement for the program.
We offer competitively paid assistantships to students on the consulting pathway, offered in different functional areas within the Business School where you will work directly with faculty or senior staff. Anyone who pursues an assistantship is still required to fulfill the experiential learning requirement through the consulting coursework. Please note assistantships are competitive and limited in number.
Career and professional development courses
A career and professional development course will be integrated throughout the program. Some topics covered include:
Resumes and Linkedln 
Interviewing
Business etiquette
Job search strategies
Employer assessments
Offers and compensation negotiation
Learning outcomes
MBA Program Outcomes 
Value 1: Act Strategically
Outcome: Develop strategies that are designed to sustain a competitive advantage and optimize stakeholder value.
Value 2: Analyze Critically
Outcome: Analyze quantitative and qualitative information using the most appropriate methods, tools and/or frameworks to address a given business problem.
Value 3: Behave Ethically
Outcome: Evaluate ethical dilemmas by applying appropriate theories and principles to the assessment of divergent perspectives in the decision-making process.
Value 4: Communicate Effectively
Outcome: Apply effective and professional communication skills in business situations.
Value 5: Lead Collaboratively
Outcome: Collaborate effectively within diverse business teams, leveraging teamwork and leadership skills.
Value 6: Think Globally
Outcome: Evaluate the impact of different socio-cultural, political/institutional, legal, financial, and/or economic contexts on business strategy and operations.
Value 7: Leverage Technology
Outcome: Demonstrate the ability to leverage information technology tools to support business processes and decision making.
These objectives are assessed in relevant courses across the curriculum using projects, presentations, reports, exam questions, and team evaluations.
Tuition
The cost of tuition for the Fall 2020 cohort will stay at $42,500 regardless of state or country of residence. Student fees, textbooks and the cost of airfare for the international flight abroad are not included in the tuition amount. You can apply for financial aid through the Office of Financial Aid and Scholarships. Other funding opportunities are outlined below.
Scholarships
All CU Denver scholarships are awarded based on merit. The One Year MBA program offers scholarships only for students enrolled in the program. You will be automatically considered for the following scholarships with the submission of your application.
One Year MBA Scholarship
From $1,000-$8,000 based on GPA, GMAT, and professional or personal leadership experience. If you are awarded this scholarship, the award amount will be included in your admission letter. These scholarships are first come first serve.  The earlier you apply to the program, the better chance of a scholarship.  In previous years, these scholarships were allocated by April, so apply to the program as early as possible to be considered.
If you commit to the One Year MBA program, you will be able to apply for the following additional scholarships. These scholarships are limited in number, but each category could have more than one recipient.  These scholarships range anywhere from $500-$5,000.
One Year MBA Leadership Scholarship
One Year MBA CU Denver Alumni Scholarship
One Year MBA STEM Scholarship
One Year MBA Global Citizen Scholarship
These scholarship deadlines are in mid-May, so you must submit your application for the One Year MBA no later than April in order to apply for additional scholarships. 
Competitive Internships and Assistantships
Securing one of the competitive internships or assistantships can help offset the cost of your program. If you are offered a competitive internship, you may earn anywhere from $15-$25 an hour. If you are offered a graduate assistantship, you can also earn an hourly income of around $15 an hour to help with program expenses.
Application Checklist
$50 domestic, $75 international application fee
 Online application
 Two letters of recommendation
 GMAT score
 Official transcripts from each college or university attended
Four short essays
 Resume
 English language proficiency—international applicants only
The One Year MBA program admits students for a fall start only. Admissions are made on a rolling basis, meaning decisions are made as applications are completed. Applications open every September for the following fall start. Scholarships for the program are offered on a first come first serve basis, so it is best to submit a completed application as early as possible.
Application Process
The application process has two components: application and if selected, interview. Applicants are required to submit all application materials by the final deadline. Interviews are by invitation only and may be completed in-person or through a virtual platform.
Admission Requirements
Applicants must have completed an undergraduate degree at an accredited United States college or its equivalent in another country by the start of the program. The program welcomes applications from students in the final year of their undergraduate degrees.
The GMAT is required for admission, however, the GRE may be substituted. GMAT waivers are available on a case-by-case basis and can be requested while completing the online application.
No course prerequisites, work experience, or formal business education is required for admission.
International applicants must demonstrate proficiency in written and oral English. TOEFL minimum scores are 90 (IBT) or 575 (PBT). Our IELTS minimum score is 6.5.
For any questions, please contact our admissions team at oneyearmba@ucdenver.edu or call Jeana Delamarter, Assistant Director of Enrollment Management, at 303-315-8063.
International Students
To meet the English Language Proficiency (ELP) criteria, you must either showcase your proficiency through past education in English instruction or an English Language Proficiency test. If you are a citizen of a country whose official language is English, you do not have to prove proficiency. See below for a listing of accepted countries.
To claim proficiency, you must complete one of the following criteria. Please note that test scores are valid for two years.
Submit a TOEFL score that meets the minimum requirements of 90 (IBT) or 575 (PBT). The minimum IBT sub scores for each section are: Reading: 15, Listening: 15, Speaking: 18, Writing: 17.
Submit an IELTS score of at least 6.5 The minimum IELTS sub scores for the reading, listening, speaking, and writing sections are 5.5.
Submit a copy of completion from the CU Denver ESL Academy.
Earned an associate's or bachelor's degree in the United States or has successfully completed a minimum of two semesters of full-time study in a master's program at an accredited institution in the United States.
Have graduated from a US/UK accredited school abroad with English as the medium of instruction.
Earned an associate's or bachelor's degree in the US or have successfully completed a minimum of two semesters of full-time study in a master's program at an accredited institution in the US.
Be a citizen of a country whose official language is English. These countries include Australia, Belize, Botswana, Canada (except Quebec), Commonwealth Caribbean, Ghana, United Kingdom, Ireland, Kenya, New Zealand, Singapore, South Africa, and Zimbabwe.
Veteran and Military Education Benefit Students
We have many students that use military education benefits at CU Denver. Students planning to use military education benefits will work closely with the One Year MBA program staff and the Veteran and Military Student Services Office throughout our program. We are happy to discuss specifics of using military benefits for this program. Please email oneyearmba@ucdenver.edu.
Space in each cohort is limited, so we urge you to apply as early as possible. Applications open in September for the following fall start.
Domestic student priority deadline: April 15
Domestic student final deadline: July 15
International student priority deadline: March 15
International student final deadline: May 15
Scholarships are competitive and limited in number. Apply early for the best opportunity for consideration. In previous years, scholarships were allocated by April.
"I chose to pursue the One Year MBA because I wanted to gain usable expertise and make valuable connections without sacrificing more than a year of the experience in the job market that I would have otherwise gained."
– Danielle Thollot, One Year MBA student
"I chose the One Year MBA program at CU Denver to effectively change the direction of my post-military career. It affords me opportunities to build tangible networks and gain practical experience simultaneously in Denver."
– James Ciccarello, US Army veteran and One Year MBA student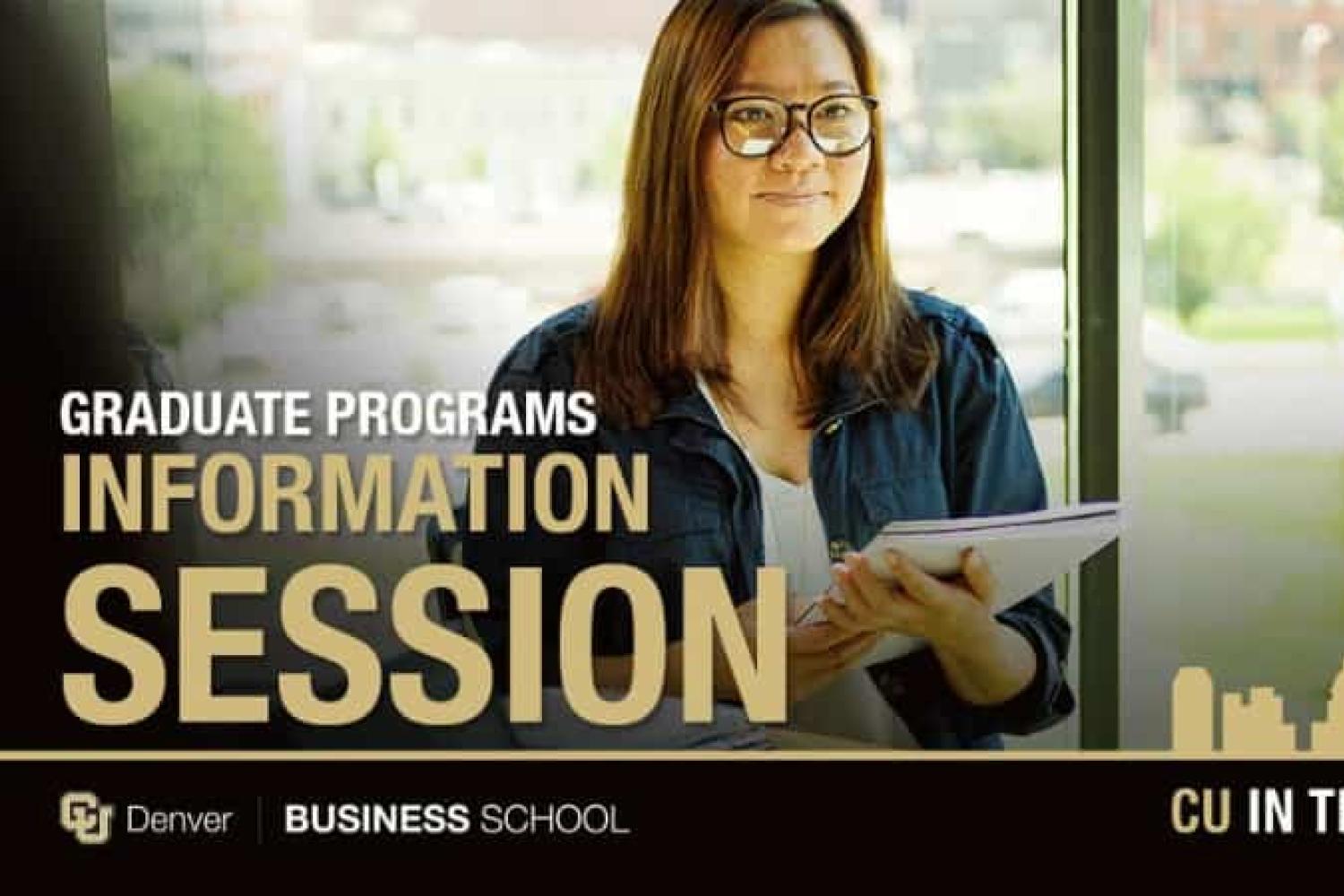 Learn about our MBA and MS degree options, application requirements and deadlines.