Empowering leaders for a dynamic digital global economy
AT A GLANCE
    Credit hours: 30+ (possible prerequisites)
    Full-time, part-time
    Online and evening class options
    16:1 student-faculty ratio
    Start terms: fall, spring, summer
Home to Colorado's only CIBER institution
CU Denver's international business curriculum prepares current and future practitioners to work in and contribute to a dynamic global economy. The program features specializations in digital globalization, global supply chain, and global cross-cultural studies. Graduates pursue diverse careers in multinational companies, born-global entrepreneurial ventures, international and government organizations, social enterprises, and educational institutions.
Pathways to International Internship and Employment program provides consulting and internship experience
 +  
Classes offered in the evening and online
"My master's degree has meant more than a higher education opportunity. I feel empowered as a woman and able to contribute to the people who cannot have the access and resources to get a better education."
– Liliana Ferrua Villanueva '18
Our Master of Science in International Business program addresses important and timely topics needed to succeed in a rapidly changing global economy. Compared to a traditional MBA program, our MS International Business program offers breadth and depth of knowledge of international business. Our student population is made up of driven professionals with a mix of travel experience, international project work, and language fluency. No matter what course you're taking, you'll interact with people who will challenge your perspective. 
Program highlights include:
Diverse faculty and student body from different national backgrounds
Specializations in digital globalization, global supply chain, and cross-cultural studies, and various global study options
Multiple networking opportunities with MSIB alumni and leaders in international business through guest speakers in classes, panel events, and executive lectures hosted by our Institute of International Business (IIB)
Downtown Denver and Colorado location, a hub for global business and digital entrepreneurship
You'll gain the knowledge and skills to lead and manage international business operations. Specifically, you'll learn transformational technologies such as blockchain in the global supply chain and practices driving international business such as global buy, global transport, and global pay.
You'll have full access to our Business Career Connections team for life. With over 10 years of recruiting and advising experience, they'll help you navigate your way through the corporate recruiting process. Our connections to over 300 business partners provide exclusive opportunities to network with industry leaders. Their services include:
 Career workshops – perfect your resume, LinkedIn profile, and job search process
 Individual appointments – explore what your personal career path looks like, review your resume, or schedule a mock interview
 Career events – hone your networking skills and meet hiring managers from top companies
 Job announcements – monthly emails with the latest job and internship opportunities specific to your degree
The MS International Business curriculum consists of 30 hours of international business core, international immersion experience, international specialization, and a free elective. There may be prerequisites that could be waived based on prior business education.
Pathways to International Internship and Employment
This course is designed to help students enter international business through consulting coursework and mentorships. Projects range depending on company needs. Many students have received internship offers from this course.
Business prerequisites
Depending on the courses you choose, you may have to take prerequisites to gain the knowledge to be successful in the course. Prerequisites may be waived if you have completed an equivalent undergraduate or graduate course from an accredited institution.
International business core I (3 hours)
Through this course, you'll build a strong foundation on the environment and operations of international business.
International business core II (12 hours)
Gain a breadth of knowledge in different functional disciplines of international business and global business strategy.
 International entrepreneurship
 International business negotiations
 New global business opportunities
 Marketing challenge at the global frontier
International Accounting
International Financial Management
Inbound International Taxation
International Immersion Experience (3 hours)
Apply your knowledge and skills to real-world business scenarios and gain exposure to various cross-cultural settings through an internship, study abroad program, or international business consulting course. This requirement allows you to work with the Institute of International Business or the Experiential Learning Center to find an international internship. The Business School offers students a number of study abroad programs every year following fall and spring semesters.
International specialization electives (9 hours)
Choose one of three specialization options listed below. These courses span across discipline and help you tackle challenges you'll face in global markets. Your specialization options are:
Digital globalization
Global supply chain
Cross-cultural studies
Free elective (3 hours)
Explore other business courses relevant to your success including areas such as entrepreneurship, accounting, business analytics, finance, health administration, information systems, management, marketing, and risk management.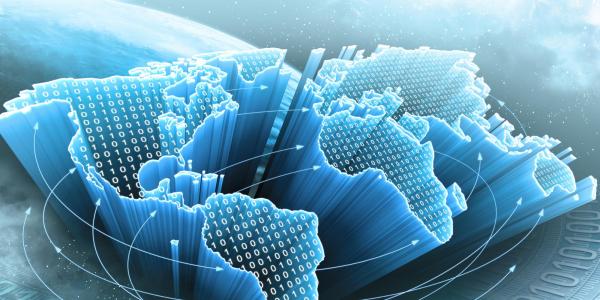 Digital Globalization
This specialization provides a fundamental understanding of digital globalization and how it is transforming international business. A key emphasis of this specialization is global and cross-border e-commerce such as global buy, transport, and pay. Course topics include:
Transformational technologies in international business
Digital strategy for entrepreneurs
Global e-commerce
Protecting information assets
Cyber risk management
Global Supply Chain
This specialization provides a fundamental understanding of how goods, services, information, and finances flow in an interlinked global economy. You'll gain knowledge in supply chain management including the flows of products, import-export operations, and technologies shaping the digitization of global trade. Course topics include:
Blockchain technology in the global supply chain
Supply chain management
Global sourcing and procurement
Global e-commerce
International trade finance and management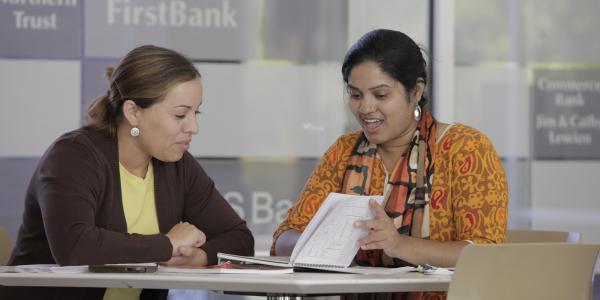 Global Cross-Cultural Studies
This specialization provides the cross-cultural perspectives and experiential learning opportunities through various study abroad programs. Students can immerse in foreign cultures by taking courses abroad in a foreign university for a full semester, or through short-term field visits to various countries. Before embarking on their international journeys, students will be prepared with cross-cultural and global communication skills. Course topics include:
Intercultural communication
Global communication
Learning outcomes
MS International Business 
Value 1:  Apply a Global Mindset
Outcome: Identify, describe and evaluate how various forces, such as culture, geopolitics, technology, economics and laws, impact the conduct of business across borders.
Value 2: Demonstrate International Business Expertise
Outcome: Define and analyze problems in functional areas of International Business, such as international finance and accounting, international marketing, international management, global supply chain management, and global technology management.
Value 3: Excel in Cross-Cultural Contexts
Outcome (for consulting course): Match market opportunities with learned international business resources.
Outcome (for field trip): Compare and contrast business environments and operations across cultures in an applied context.
These objectives are assessed in relevant courses across the curriculum using projects, presentations, assignments and exam questions.
International Business jobs are found in corporate, public sector and non-profit organizations. Many companies either currently conduct business internationally or are considering it. Knowledge gained in your program can be used across many different functional areas.
International Business Job Titles
Banker
Contract Administrator
Foreign Currency Investment Advisor
Foreign Sales Representative
Foreign Service Officer
Human Resource Administrator
Import/Export Coordinator
Inventory Specialist
Investment Services Representative
Logistics and Sourcing Coordinator
Meeting and Convention Planner
Operations Coordinator
Product/Project Manager
Purchasing Agent/ Supply Chain
Sales Support/ Account Manager
Trade Specialist
Translator
Visit our Careers page for more detailed information on the resources available.
Tuition
The cost of tuition for the MS International Business degree is different for in-state and out-of-state students.
Residents of western states may qualify for in-state tuition. The Western Regional Graduate Program (WRGP) requires that students maintain current residency of WRGP state until degree completion.
Scholarships
Scholarships are available for students. As a current student, you can apply for scholarships every semester. Some awards are based on program and course enrollment.
Preferred Applicant Scholarship—$2,000
Awarded to high-achieving incoming graduate business students based on undergraduate GPA (3.60+) and/or your GMAT (610+) or minimum GRE of (155v /160q) scores. This scholarship is automatically awarded until funds are exhausted so your early application is encouraged. If you are interested in this scholarship, you must contact an
enrollment manager
for details and to check eligibility. Awarded over 2 semesters, $1,000 each.
Non-Resident in Transit Scholarship—$3,000
This scholarship is awarded to assist graduate business students seeking Colorado residency for tuition. Qualified students are automatically awarded until funds are exhausted. Early application is encouraged!
Interested students must contact an enrollment manager
for details and to check eligibility.  You must use the award over one calendar year, and be enrolled in a minimum of 3 credits a semester. Awarded over 2 semesters, $1,500 each.
Dual degree options for Master of Science programs include all of our MBA programs and all Business School Master of Science programs. We design a specific degree plan so you get through both programs as quickly and cost-effectively as possible. The amount of credits in each dual degree depends on the amount of overlap between degree programs. Eligible Master of Science programs include:
MS Accounting
MS Business Analytics
MS Finance and Risk Management
MS Global Energy Management
MS Information Systems
MS International Business
MS Management
MS Marketing
MS Taxation
If you are applying for both degrees, you will only need to submit one online application and pay one application fee. Be aware that you must meet specific admission standards for each degree. For more information about dual degree options and the application process, please contact BSchool.Admissions@ucdenver.edu.
Application Checklist
$50 domestic, $75 international application fee
 Online application
 GMAT/GRE score
 Official transcripts from each college or university attended
Essay responses
 Resume
 English language proficiency—international applicants only
Application Process
Applicants are required to submit all application materials. Interviews are not a part of the admission process. To receive priority admission, we must have received your online application and all other required materials including transcripts and GMAT/GRE scores by the deadline.
You can check your admission status online through the account you created for the online application. You will receive a final decision by email within two to three weeks from the submission of all materials.
Admission Requirements
We understand that GMAT/GRE testing centers have temporarily closed due to COVID-19. We are here to help make sure your application does not get delayed during the suspension of testing centers. If you find that the testing center closures impact you or have any questions about how to proceed with your application, please contact us at
bschool.admissions@ucdenver.edu
.
Applicants must have completed an undergraduate program at an accredited United States college or its equivalent in another country.
The GMAT is required for admission, however, the GRE may be substituted. GMAT/GRE waivers are available on a case-by-case basis and can be requested while completing the online application. Please note, not all programs offer the same GMAT/GRE waivers.
No work experience or formal business education is required for admission.
How Decisions Are Made
The admissions committee considers each candidate's entire record of achievement. This is demonstrated through:
Academic transcripts
GMAT/GRE scores
Essay responses
Letters of recommendation if applicable 
Work experience
Extracurricular and community activities
No work experience or formal business education is required for admission. However, professional experience strengthens your application. Candidates with less work experience can show potential through academic and experiential success.
For any questions, please contact our admissions team at bschool.admissions@ucdenver.edu or call 303-315-8200.
International Students
We understand that TOEFL/IELTS testing centers have temporarily closed due to COVID-19. We are here to help make sure your application does not get delayed during the suspension of testing centers. The Business School is now accepting Duolingo as an alternative test to the TOEFL/ITELS. Please go to
duolingo.com
for more information on how to take the test. If you have any questions about Duolingo or your application, please contact us at 
bschool.admissions@ucdenver.edu
. 
To meet the English Language Proficiency (ELP) criteria, you must either showcase your proficiency through past education in English instruction or an English Language Proficiency test. If you are a citizen of a country whose official language is English, you do not have to prove proficiency. See below for a listing of accepted countries.
To claim proficiency, you must complete one of the following criteria. Please note that test scores are valid for two years.
Submit a TOEFL score that meets the minimum requirements of 79 (IBT) or 537 (PBT).
The minimum IBT sub-scores for each section are:

Reading: 18
Listening: 17
Speaking: 20
Writing: 17

Submit an IELTS score of at least 6.5 The minimum IELTS sub scores for the reading, listening, speaking, and writing sections are 5.5.
Submit a copy of completion from the CU Denver ESL Academy.
Be a citizen of a country whose official language is English. International applicants holding a citizenship from the following countries do not need to prove their English language proficiency for admission to CU Denver: Antigua & Barbuda, Australia, Barbados, Belize, Canada, Dominica, Granada, Guyana, Ireland, Jamaica, Malta, New Zealand, Saint Kitts & Nevis, Saint Lucia, Saint Vincent & the Grenadines, The Bahamas, Trinidad & Tobago, United Kingdom.
International applicants may meet the English language proficiency requirement through any of the options below for previous coursework completed. Options for previous coursework completed which will satisfy admissions ELP requirements:

Earn an associate or bachelor's degree in the US
Earn a post-secondary credential (comparable to a US associate or bachelor's degree) in any of the exempt countries listed above
Earn a post-secondary credential (comparable to a US associate or bachelor's degree) at an exempt-country-accredited school located in a non-exempt country
Earned 12 or more credit hours in a master or doctoral degree program in the United States, an exempt country, or at an exempt-country-accredited school in a non-exempt country AND earned an overall college-level GPA of 3.0 or higher.
To be eligible for scholarships you must apply by the priority deadlines. Plan to submit materials early to expedite processing. Deadlines apply to all required documents. Please note that if you apply by the final deadlines many classes may be full.
Plan to submit materials early to expedite processing. Deadlines apply to all required documents. 
Fall
Domestic Applications
Priority: April 15
Final:  July 15
​ International Applications
Priority: March 15
Final: May 15
Spring
Domestic Applications
Priority: October 15
Final: December 15
​International Applications
Priority: September 15
Final: October 15
Summer
Domestic Applications
Priority: February 15
Final: April 15
​International Applications
Priority: January 15
Final: March 15
Traveling abroad is a critical part of expanding your perspective. You'll expose yourself to new cultures and business environments. Compare business in various market conditions in both emerging and developed countries. Past trips have covered:
Innovation in Cuba
Sports and entertainment in London
Leadership in Dubai
Sustainability in Denmark
Center for International Business Education and Research (CIBER)
The only CIBER in Colorado, one of two in the Rocky Mountain region, and one of only 15 in the United States, we have established ourselves as a hub of international business expertise. The Center regularly hosts CEOs, government leaders, and renowned academics as a part of their International Executive Roundtable series.
Live projects are a cornerstone to the MS International Business curriculum. Past projects have included working for companies such as:
IBM
MolsonCoors
Solix Technologies
Mikron-Denver