A world-class MBA program for executives in the heart of Denver
AT A GLANCE
    Credit hours: 45
    16 months; 8 week term structure
    Hybrid Format: remote learning plus in-person coursework two weekends of each term
    Start term: Spring and Fall
The CU Denver EMBA is designed for executives who want to sharpen their skills with no career disruption. We balance a strong quantitative core with significant emphasis on leadership and strategy, giving you the analytical skills to make better business decisions. 
Get your degree in the heart of Denver and work with world-class faculty and senior business executives. Your classmates will be professionals from diverse backgrounds, functional areas, and stages in their careers, exposing you to critical conversations and experiences. The coursework, connections, and networking opportunities will provide immediate, real-time impact on your organization and your career. 
+ 
Hybrid format
A program that fits into your life
Designed with Your Career in mind 
Program can be completed in 16 months with no career disruption 
International Course Abroad
Gain global insights in a course abroad 
Grow your network
Cohort structure and classes in downtown Denver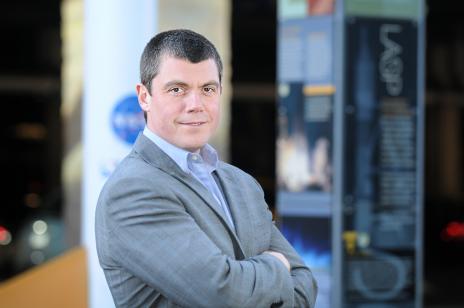 "Getting an EMBA was a great way to round my range of business management skills, broaden cross-industry insight and, most importantly, give me a solid network of professional contacts that will be with me for the rest of my career."

—Chris Pearson
Our Executive MBA is designed to meet the needs of experienced professionals. Business challenges are increasingly complex, and our coursework focuses on the analytical skills and high-level strategy that will advance your ability to make data-driven decisions. Learn from leading faculty and industry leaders, and apply new insights to your current organization.  
Designed for working professionals: hybrid format with classes online and in downtown Denver 
Downtown Denver location: Leverage the Denver business community in your career 
Executive support: Leave the details to us and focus on work and your degree  
Global Insights: Apply your knowledge in a global context on our international course abroad 
Join a cohort of executives from diverse backgrounds, functional areas, and stages in their careers. Our staff offers a full range of concierge-style support services. We consult with you during the admissions process and throughout the program. All administrative responsibilities including registration, payment, enrollment, acquisition of books, software, and other materials, are handled by program staff on your behalf.  
The Executive MBA consists of 15 courses for a total of 45 semester credit hours. It is designed with working professionals in mind; you will complete your degree in 16 months while you work. Courses balance a strong quantitative core (finance, accounting, economics, and data analysis) and significant emphasis on leadership and strategy, specifically on the skills and perspective required to transition to executive leadership.  
Core courses include: 
Data Analysis for Managers 
Analyzing and Interpreting Accounting Information 
Applied Economics for Managers 
Operations Management 
Marketing Strategy and Innovation 
Executive-Level Business Strategy 
International Business and an International Trip 
International Courses
The international courses allow you to explore topics in global business. One course is taught in Denver and gives you a broader understanding of business in a global context. The second course is taught abroad and includes company site visits in a variety of industries, meetings with executives, speakers, university visits with local MBA students, and some cultural activities. 
CU Denver Business School students have visited: 
Europe 
Asia 
Australia 
South America 
Africa 
Our team closely monitors all international health and safety concerns to offer you global business insights in a safe environment.   
Hybrid Method of Instruction 
On Campus: Classes meet on campus for two weekends each term. Classes are held from 8:30 am-4:30 pm Friday and Saturday, and consist of traditional lectures, discussions, and group activities. You will also have ample opportunities to work with peers and faculty.  
Online: Digital conferencing brings the classroom into your home, through Canvas and Zoom. You'll have access to course assignments, presentations, and discussions with professors and your classmates.  
Executive MBA students come from diverse backgrounds and represent a broad spectrum of organizations. Representative areas of responsibility include strategic planning, budget oversight, management, sales, marketing, operations, project management, product development, business development, and entrepreneurship. Your cohort will come from fields such as healthcare, law, architecture, science, research, engineering, consulting, information technology, or military leadership.   
Executive MBA Career Opportunities 
Chief Executive Officer 
Chief Financial Officer 
Chief Operating Officer 
Chief Marketing Officer 
Chief Information Officer 
President 
Vice President 
Senior Director 
Director 
Senior Manager 
The Executive MBA also includes leading executive coaching services through Right Management. This incredible value is included in your tuition.  
Visit our Careers page for more detailed information on the resources available. 
Learning outcomes
MBA Program Outcomes 
Value 1: Act Strategically
Outcome: Develop strategies that are designed to sustain a competitive advantage and optimize stakeholder value.
Value 2: Analyze Critically
Outcome: Analyze quantitative and qualitative information using the most appropriate methods, tools and/or frameworks to address a given business problem.
Value 3: Behave Ethically
Outcome: Evaluate ethical dilemmas by applying appropriate theories and principles to the assessment of divergent perspectives in the decision-making process.
Value 4: Communicate Effectively
Outcome: Apply effective and professional communication skills in business situations.
Value 5: Lead Collaboratively
Outcome: Collaborate effectively within diverse business teams, leveraging teamwork and leadership skills.
Value 6: Think Globally
Outcome: Evaluate the impact of different socio-cultural, political/institutional, legal, financial, and/or economic contexts on business strategy and operations.
Value 7: Leverage Technology
Outcome: Demonstrate the ability to leverage information technology tools to support business processes and decision making.
These objectives are assessed in relevant courses across the curriculum using projects, presentations, reports, exam questions, and team evaluations.
The cost of tuition is $70,000 and is guaranteed for the entire 16-month program.  Tuition includes textbooks, course-related software, instructional materials, morning and afternoon refreshments on class days. It also includes travel lodging and most meals for you during the international trip abroad.  
A $1,500 non-refundable deposit is due upon acceptance into the program and will be applied to first term's tuition. Tuition is billed in installments for each term.  
Executive MBA Business School Grants 
To promote a wide range of industries in the classroom and create a diverse environment, the CU Denver Business School Executive MBA Program provides post-acceptance grants in varying amounts to prospective students working in the nonprofit sector or under-represented industries. A separate application is not required. For details please contact Roger Japp at (303) 623-1888.  
Employer Support 
The valuable skills you will gain in the program will immediately benefit your company, colleagues, and yourself as you apply your knowledge to business challenges. Many employers will invest in their employee's business education and offer full or partial reimbursement. Contact your company's human resources department to inquire about employer support.  
Scholarships 
Additional merit-based scholarships are available for qualified students enrolled in the Executive MBA program through the CU Denver Scholarships office. 
Veterans Benefits 
The University of Colorado is a "Military Friendly" university, committed to providing servicemen and women with a high-quality education catered to their distinct needs. The University of Colorado is a public University and proud member of the Post-9/11 GI Bill. This distinction allows veterans to maximize their service time by possibly having 100% of the EMBA tuition paid for depending on length of service. The OVSS represents Active Duty, Reservist, National Guard, Veteran and VA Dependent students. Please contact the VA Office at (303) 315-7300 or by email at VMSS@ucdenver.edu to find out more details about your VA benefits. 
Federal Stafford Loan 
Executive MBA students can help fund their education through student loans. All federal loans require the submission of the Free Application for Federal Student Aid (FAFSA). To be eligible applicants must be U.S. citizens and have not defaulted on a previous student loan. For information please visit: https://studentloans.gov/myDirectLoan/index.action 
Private Educational Loans 
Private educational loans are an additional financing option that students may consider. Most commercial banks have a student loan department that can assist with additional detail. We recommend students research private lenders and review the terms and conditions of each program prior to securing a private educational loan. 
Application Checklist
 Online application
 Resume
 Official transcripts from each college or university attended
 Organization Sponsorship Statement or Nominating Letter
 Two Recommendation Letters
  Self-Evaluation 
 Personal Interview
We admit an Executive MBA cohort each Fall and Spring term. Admissions are made on a rolling basis, meaning decisions are made as applications are completed. 
Application Process 
Applicants are required to submit all application materials. There is no application fee.  A personal interview is a part of the admission process. Because of the program's competitive nature and rolling admissions policy, we strongly recommend submitting your application as soon as possible. 
You can check your admission status online through the account you created for the online application. You will receive a final decision by email within two to three weeks from the submission of all materials. 
Admission Requirements  
The ideal candidate is in a management position and demonstrates a clear career progression. A minimum of eight years of full-time professional work experience is required. 
Must hold an undergraduate degree and official university transcripts. 
Submit two letters of professional recommendation. 
Complete admissions form, write a self-recommendation letter and provide current résumé/curriculum vitae. 
If you are a citizen of a country where English is not the official language, you must present an official score from the TOEFL or IELTS tests. This requirement is waived for candidates who have earned a degree from a U.S. college or university. 
Candidates may wish to strengthen their applications with a successful GMAT score, but it is not necessary in all cases. 
Supporting organizations may provide financial sponsorship and must allow their employees sufficient time for CU EMBA classes and coursework. 
All candidates must complete an interview as the final stage of the selection process. The interview helps us assess your motivation for pursuing an Executive MBA, your academic and professional experience, and your plans for the future. 
Individuals who do not meet all of the above criteria, but have a unique business background or are currently in a senior position in their organization, are encouraged to contact the program director to discuss the potential for enrollment in the program. 
For any questions, please contact our Executive MBA team
Fall
Applications due June 30
Spring
Applications due October 31
Request Executive MBA Information