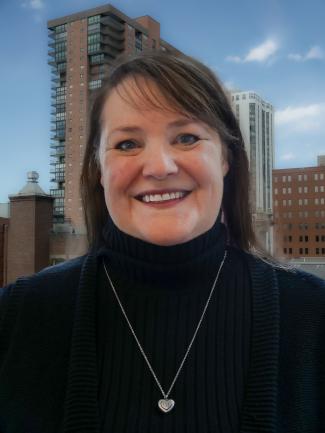 Director for the Daniels Fund Ethics Initiative Collegiate Program • Clinical Assistant Professor
Information Systems • Daniels Fund Ethics Initiative
Dr. Gisella Bassani is the Director of the Daniels Fund Ethics Initiative Collegiate Program and a Clinical Assistant Professor in the Information Systems department. Prior to coming to the University of Colorado Denver, she taught at the University of Denver since 2011 in the Business Information & Analytics department at the Daniels College of Business. Her teaching experience includes classes on SQL coding, databases, data warehousing, reporting, and statistics. In 2021 she won an Extraordinary Teaching in Extraordinary Times award. She was also nominated 4 times for the Faculty Career Champion award. 
Dr. Bassani has over 25 years of experience in Information Technology in a wide variety of industries that allow her to provide students with a strong integration between the academic and practical. She brings the workplace into the classroom to create an innovative learning experience. Her international business experience includes development of business intelligence platforms, implementation of a variety of information systems (from SQL Server databases to Visual Basic front-end systems), development of databases and data warehouses, and the development and maintenance of data analysis tools and reports. Dr. Bassani has led intercontinental teams. She actively incorporates these experiences in the classroom and helps students relate to colleagues who represent divergent views and experiences, as well as to a variety of information systems.
Education
PhD Computer Science and Information Systems, University of Colorado Denver
MBA, Management Information Systems and Entrepreneurship Emphases, University of Denver, Daniels College of Business
BA, Theatre, Oberlin College
Areas of expertise
Business Intelligence
Databases and Data Warehousing
SQL Server / SQL Coding
Enterprise Software
Software Implementations and Project Management
Data Analytics
Data Visualizations
Entrepreneurship
Publications and presentations
Bassani, G., McCubbrey, D. J., and Watson, R. T. 2016. "The Global Text Project: Spanish Translation Phase," Journal of the Midwest Association for Information Systems (JMWAIS) (2016:2), pp. 43 - 60.
Bassani, G., & Karimi, J. (2014). Business Intelligence Implementations: A Multi-Project Classification. Twentieth Americas Conference on Information Systems, Savannah, GA. Poster.
Awards
Extraordinary Teaching in Extraordinary Times - May 2021 
Faculty Career Champion Award (Nominee) - 2020 - 2021 
Faculty Career Champion Award (Nominee) - 2018 - 2019 
Faculty Career Champion Award (Nominee) - 2017 - 2018
Faculty Career Champion Award (Nominee) - 2016 - 2017