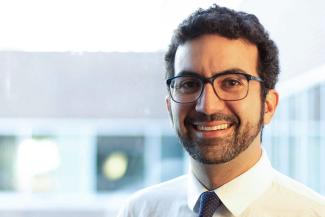 Assistant Professor
Management • Entrepreneurship • Managing for Sustainability
Cyrus Dioun studies the relationship between politics, culture, and the emergence and legitimation of new industries. His research covers a number of new and contested industries, ranging from legal cannabis markets to the do-it-yourself maker field. His work has been published in journals, such as Organization Science and Socio-Economic Review, and cited by Time Magazine, The Hill, ABC News, and The Chronicle of Higher Education.
Prior to starting at the University of Colorado Denver, Professor Dioun was a Data Science Fellow at the Berkeley Institute for Data Science (BIDS). He has also worked with or consulted for tech startups, business incubators, and real estate developers.
Education
PhD, University of California Berkeley
MA, University of California Berkeley
MA, Columbia University
BA, Pomona College
Areas of expertise
Organization Theory
Nascent Industries
Organizational Stigma
Collective Identity
Publications
Gorbatai, Andrea, Cyrus Dioun, Kisha Lashley 2020. Making space for emotions: Empathy, contagion, and legitimacy's double-edged sword. Organization Science 32(1):42-63.
Dioun, Cyrus. 2018. Negotiating moral boundaries: Social movements and the strategic (re)definition of the medical in cannabis markets. Research in the Sociology of Organizations 56, 53-82.
Dioun, Cyrus. 2017. Making the medical marijuana market. In Matias Dewey and Jens Beckert, eds., The Architecture of Illegal Markets. Oxford, UK. Oxford University Press.
Eaton, Charlie, Jacob Habinek, Adam Goldstein, Cyrus Dioun, Daniela Santibanez Godoy, Robert Osley-Thomas. 2016. The financialization of US higher education. Socio-Economic Review 14(3), 507-535.
Covered in: Time, The Hill, The Chronicle of Higher Education, San Jose Mercury News
Fligstein, Neil and Cyrus Dioun. 2015. Economic sociology. In James Wright, ed., International Encyclopedia of the Social & Behavioral Sciences, 2nd Edition.
Awards
Emerald Press Literati Award, Outstanding Author Contribution, 2019