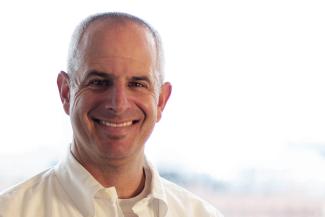 Senior Instructor
Management • Entrepreneurship
Coming from a background in business and management, David Ruderman stresses the application of practical skills in his courses. These include critical thinking, effective communication, problem solving and team collaboration. He tailors his courses to challenge students, with the end goal of them becoming better employees, team members, and business leaders. He is demanding and has high expectations but is also laid back in his teaching style, is interactive, and works to make the learning experience fun and engaging. He looks to take on the roles of teacher, coach, and mentor.
In addition to teaching, Ruderman is the faculty adviser for the Business Student Ambassador Committee, a premiere student club within the Business School. In this role, he works to enhance the student experience and supervises student members as they participate in project management, fundraising, recruiting, and professional enrichment. He also volunteers for various committees within the Business School and CU Denver.
Ruderman is a certified Myers Briggs Type Indicator practitioner and a Dale Carnegie Leadership Training for Managers graduate. He also served on the Board of Directors for Phamaly, a local non-profit organization that promotes theatre opportunities for people with disabilities, from 2010 to 2011, where he led their Strategic Planning Committee.
Education
MBA Entrepreneurship emphasis, University of Colorado Denver
BA Broadcasting and Cable, Minors Business and Japanese Language, Pennsylvania State University
Areas of expertise 
Entrepreneurship
Corporate Strategy
Management
Cultural Diversity
Publications and presentations
"Student Ambassador Programs: A Hidden Resource." University Business Magazine. July 2010. pp 26-27.
Awards
2014 Outstanding Faculty Adviser of the Year - Office of Student Life
2012-2013 CU Denver Business School Outstanding Instructor Award
Affiliations
Dale Carnegie Leadership Training for Managers graduate, 1998