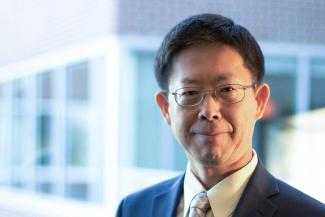 Associate Professor
Finance • Risk Management and Insurance
Dr. Shim is an Associate Professor in the Risk Management and Insurance Program at the University of Colorado Denver. His research interests include industrial organization of insurance markets, capital structure, quantitative risk measurement, executive compensation, and regulation of financial institutions. His research has been published in academic journals such as the Journal of Risk and Insurance, Journal of Banking and Finance, Journal of Financial Services Research, Asia-Pacific Journal of Risk and Insurance, and Applied Economics.
He was a co-winner of the Geneva Association/International Insurance Society (IIS) Research Excellence Award in 2007. Dr. Shim teaches Risk 3809 Introduction to Risk Management and Insurance, Risk 4809 Property and Casualty Insurance, and Risk 6809 Principles of Risk and Insurance in the Risk Management and Insurance undergraduate and graduate programs.
He was a faculty member for the Department of Business Administration at Illinois Wesleyan University from 2007 to 2013.
Education
PhD Risk Management and Insurance, Georgia State University
MS Actuarial Science, Georgia State University
Areas of Expertise
Industrial Organization of Insurance Markets
Capital Structure
Executive Compensation
Regulation of Financial Institutions
Publications
"Loan Portfolio Diversification, Market Structure and Bank Stability," (2019), Journal of Banking and Finance 104: 103-115 (sole-authored)
"CEO Inside Debt and Risk Taking: Evidence from Property-liability Insurance Firms," (2019), with Andreas Milidonis and Takeshi Nishikawa, Journal of Risk and Insurance 86(2): 451–477   
"Does Diversification Drive Down Risk-adjusted Returns? A Quantile Regression Approach," (2017), Asia-Pacific Journal of Risk and Insurance 11(2): 1-32 (sole-authored)
"An Investigation of Market Concentration and Financial Stability in Property-liability Insurance Industry," (2017), Journal of Risk and Insurance 84(2): 567–597 (sole-authored)
"Dependency between Risks and the Insurer's Economic Capital: A Copula-based GARCH Model," (2017), with Seung-Hwan Lee, Asia-Pacific Journal of Risk and Insurance 11(1): 1-29
"A New Test Procedure for the Choice of Dependence Structure in Risk Measurement: Application to the U.S. and UK Stock Market Indices," (2016), with Eun-Joo Lee and Seung-Hwan Lee, Applied Economics 48(15): 1382-1389
"Bank Capital Buffer and Portfolio Risk: The Influence of Business Cycle and Revenue Diversification," (2013), Journal of Banking and Finance 37: 761-772 (sole-authored)
"Mergers & Acquisitions, Diversification and Performance in the U.S. Property-Liability Insurance Industry," (2011), Journal of Financial Services Research 39: 119-144 (sole-authored)
"Capital-based Regulation, Portfolio Risk and Capital Determination: Empirical Evidence from the U.S. Property-Liability Insurers," (2010), Journal of Banking and Finance 34: 2450-2461 (sole-authored)
"A Versatile Copula and its Application to Risk Measures," (2010), with Eun-Joo Lee and Seung-Hwan Lee, International Journal of Business and Economics 9: 215-233
Awards
Dean's Summer Research Award, Business School, University of Colorado Denver, 2017
Summer Research Grant Award, Business School, University of Colorado Denver, 2016
Artistic and Scholarly Development Research Grant, Illinois Wesleyan University, 2008 - 2012
Geneva Association/International Insurance Society Research Excellence Award, 2007