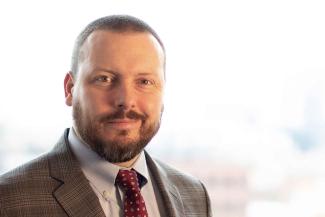 Assistant Professor
Management
Kyle Ehrhardt joined the Business School faculty at the University of Colorado Denver in August 2014 after completing his PhD studies at the University of Wisconsin-Milwaukee's Sheldon B. Lubar School of Business. Prior to his doctoral studies, Ehrhardt was employed for several years in the sport management industry, working for a US-based national governing organization.
Ehrhardt's research interests center on the intersection of workplace relationships and topics related to diversity and discrimination – and in particular, how experiences in these areas contribute toward employees' attitudes regarding their work and workplace. His research has appeared in a variety of journals, and he also serves on the editorial boards of the Journal of Business & Psychology and Human Resource Development Quarterly.
Education
PhD Management Science (Organizational Behavior & Human Resource Management), University of Wisconsin-Milwaukee
MS Sport Management, Illinois State University
BA Communication & Physical Education, Hanover College
Areas of expertise
Organizational Behavior
Workplace Relationships
Workplace Diversity and Discrimination
Publications and presentations
Ehrhardt, K., & Sharif, M.M. (2019). Career implications for high-quality work relationships: An SCCT test. Journal of Managerial Psychology, 34, 474-490.
Ehrhardt, K., & Ragins, B.R. (2019). Relational attachment at work: A complimentary fit perspective on the role of relationships in organizational life. Academy of Management Journal, 62, 248-282.
Yip, J., Ehrhardt, K., Black, H, & Walker, D. (2018). Attachment theory at work: A review and directions for future research. Journal of Organizational Behavior, 39, 185-198.
Gonzalez, J., Ragins, B.R., Ehrhardt, K, & Singh, R. (2018). Friends and family: The role of relationships in community and workplace attachment. Journal of Business & Psychology, 33, 89-104.
Ragins, B.R., Ehrhardt, K., Lyness, K., Murphy, D., & Capman, J. (2017). Anchoring relationships at work: High quality mentors and other supportive relationships as buffers to ambient racial discrimination. Personnel Psychology, 70, 211-256.
Wyland, R., Lester, S. W., Ehrhardt, K, & Standifer, R. L. (2016). An examination of the relationship between the work-school interface, job satisfaction, and job performance. Journal of Business & Psychology, 31, 187-203.
Ehrhardt, K., Miller, J., Freeman, S., & Hom, P. (2014). Examining project commitment in cross-functional teams: Antecedents and relationship with team performance. Journal of Business & Psychology, 29, 443-461.
Ragins, B.R., Gonzalez, J., Ehrhardt, K., & Singh, R. (2012). Crossing the threshold: The spillover of community racial diversity and diversity climate to the workplace. Personnel Psychology, 65, 755-787.
Ehrhardt, K., Shaffer, M., Chiu, W., & Luk, D. (2012). "National" identity, perceived fairness, and organizational commitment in a Hong Kong context: A test of mediation effects.  International Journal of Human Resource Management, 23, 4166-4191.
Awards
Best Overall Paper Award Finalist – AOM Careers Division, 2017
Reviewer of the Year Award – Journal of Business & Psychology, 2014
Saroj Parasuraman Top Publication Award – AOM GDO Division, 2013
Best Overall Paper Award – AOM Careers Division, 2013
Dorothy Harlow Best Paper Award – AOM Gender & Diversity in Organizations Division, 2012
Robert J. Litschert Best Student Paper Award Finalist – AOM BPS Division, 2010
Affiliations
Editorial Board Member: Journal of Business & Psychology, 2013 – Present; Human Resource Development Quarterly, 2014 – Present
Professional Memberships: Academy of Management, Society of Industrial/Organizational Psychology, Society for Human Resource Management, North American Society for Sport Management