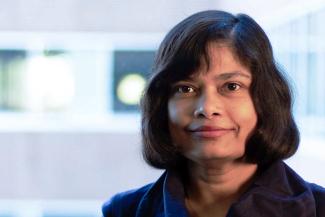 Associate Professor
Finance
Rina Ray teaches and researches at the Business School and is also an affiliated researcher at the Center for Commodity Market Analysis, Norwegian University of Life Sciences (NMBU). A chemical engineer by training, she worked in the oil and gas industries before earning her MBA from the Cox School of Business at Southern Methodist University, where she was part of a student team responsible for a $5 million endowment portfolio and worked part time and summer at an alternative asset management fund. Ray later received her training in financial economics and mathematics and earned her PhD from Indiana University Bloomington. Her research has been published in the Journal of Financial and Quantitative Analysis, the Journal of Financial Markets, and the Journal of Commodity Markets, among others. She has presented her work as the Western Finance Association Annual Meetings, European Finance Association Annual Meetings, Center for Economic Policy Research Conferences and Summer Symposiums at the Swiss Banking Institute in Gerzensee.
Ray's current research projects are at the intersection of human capital, research and innovation, household finance, and credit and distress risk. Most of her works have significant public policy implications. One of her current research is on impact of skilled immigration; another has solved an important problem related to residential mortgage and household finance; and a third has proposed a new method of risk management that has far outperformed the standard commercial model for estimating value-at-risk (VaR) used by financial institutions. At CU Denver, Ray has taught courses on financial management, commodities and financial derivatives, and real options. She enjoys mentoring students and tries to stay in touch with them even after they graduate.
Education
PhD Finance, Mathematics Minor, Indiana University Bloomington
MBA Finance, Southern Methodist University
BTech Honors in Chemical Engineering, Indian Institute of Technology Kharagpur
Areas of expertise
Credit Risk and Financial Distress
Household Finance
Human Capital
Real Option
Publications and presentations
Heterogeneous traders, liquidity, and volatility in crude oil futures market. E Haugom, R Ray. Journal of Commodity Markets 5, 36-49. 2017.
A parsimonious quantile regression model to forecast day-ahead value-at-risk. E Haugom, R Ray, CJ Ullrich, S Veka, S Westgaard. Finance Research Letters 16, 196-207. 2016.
Financial distress and idiosyncratic volatility: An empirical investigation. J Chen, L Chollete, R Ray. Journal of Financial Markets 13 (2), 249-267. 2016.
The role of the media in the internet IPO bubble. U Bhattacharya, N Galpin, R Ray, X Yu. Journal of Financial and Quantitative Analysis 44 (3), 657-682. 2009.
Key determinants of stock prices in India. S Sen, R Ray. The ICFAI Journal of Applied Finance 9 (7), 35-40. 2003.
Awards
(2017) University of Colorado Denver CIBER Research Grant
(2014) Semi-finalist, Best Paper Award in Derivatives, Financial Management Association (FMA) Annual Meetings
(2013) Petri Research Grant, CU Denver
(2009) Award for Excellence in Research and Publication, Norwegian School of Economics
(2008) Research Grant from the National Stock Exchange of India
Affiliations
Ad Hoc Reviewer: Journal of Banking and Finance, Journal of Corporate Finance
Chairperson: Financial Management Association Meetings
Discussant: EFMA, FMA, FIRS and Front Range Conferences