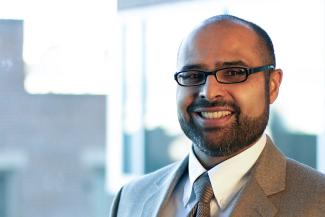 Professor
Management • Health Administration
Vinit Desai is a professor of management at the Business School. His current research examines how organizations respond to and learn from failures of all sorts, ranging from financial shortfalls to mistakes, accidents, and all things in between. He has conducted this work in various industries and contexts such as healthcare, commercial aviation, natural gas transmission, freight transportation, and elsewhere. His work has been published in the Academy of Management Journal, Organization Science, and other academic outlets, and blogged by the Economist, Fortune, and Forbes.
Education
PhD, University of California at Berkeley
MS, University of California at Berkeley
BBA, University of Texas at Austin
Areas of expertise
Organizational Failures
Organizational Learning
Performance Feedback
Legitimacy and Reputation Management
Publications and presentations
Madsen, P. and Desai, V. (in press). Change at Last, but When Does Change Last? Preserving Attentional Engagement around Past Failures and their Lessons. Academy of Management Journal.
Desai, V. and Madsen, P. (2022). Take your time? How activity timing affects organizational learning and performance outcomes. Organization Science, 33: 1707–1723.
Desai, V. (2020). Can Busy Organizations Learn to Get Better? Distinguishing Between the Competing Effects of Constrained Capacity on the Organizational Learning Process. Organization Science, 31: 67-84.
Madsen, P. and Desai, V. (2018). No Firm is an Island: The Role of Population-Level Actors in Organizational Learning from Failure. Organization Science, 29: 739-753.
Desai, V. (2018). Collaborative Stakeholder Engagement: An Integration between Theories of Organizational Legitimacy and Learning. Academy of Management Journal. 61: 220-244
Desai, V. (2016). Under the Radar: Regulatory Collaborations and their Selective Use to Facilitate Organizational Compliance. Academy of Management Journal. 59: 636-657.
Desai, V. (2015). Learning through the Distribution of Failures within an Organization: Evidence from Heart Bypass Surgery Performance. Academy of Management Journal 58: 1032-1050.
Desai, V. (2014). Does Disclosure Matter? Integrating Organizational Learning and Impression Management Theories to Examine the Impact of Public Disclosure Following Failures. Strategic Organization 12: 85-108.
Desai, V. (2014). The Impact of Media Information on Issue Salience Following Other Organizations' Failures. Journal of Management 40: 893–918.
Desai, V. (2012). The Two Faces of Voluntary Disclosure: Quality Improvement and Organizational Learning from Self-Reported Problems. British Journal of Management 23: 344-360.
Desai, V. (2011). Mass Media and Massive Failures: Determining Organizational Efforts to Defend the Field's Legitimacy following Crises. Academy of Management Journal 54: 263-278.
Madsen, P. and Desai, V. (2010). Failing to Learn? The Effects of Failure and Success on Organizational Learning in the Global Orbital Launch Vehicle Industry. Academy of Management Journal 53: 451-476.
Desai, V. (2008). Constrained Growth: How Experience, Legitimacy, and Age influence Risk Taking in Organizations. Organization Science 19: 594-608.
Madsen, P., Desai, V., Roberts, K., and Wong, D. (2006). Mitigating Hazards through Continuing Design: The Birth and Evolution of a Pediatric Intensive Care Unit. Organization Science 17: 239-248.
Awards
Received Academy of Management Journal Best Reviewer Award, 2018
"Learning through the Distribution of Failures within an Organization: Evidence from Heart Bypass Surgery Performance" article featured on Forbes and on Fortune
"Failing to Learn? The Effects of Failure and Success on Organizational Learning in the Global Orbital Launch Vehicle Industry" article selected as finalist for 2010 Best Paper Award at the Academy of Management Journal. Featured on Economist.com and on BBC Radio, as well as in other outlets
"Mitigating Hazards through Continuing Design: The Birth and Evolution of a Pediatric Intensive Care Unit" article awarded Emerald Management Citation of Excellence, bestowed annually to only fifty articles by an internationally recognized committee of management scholars and practitioners