Have you already taken courses at CU Denver? If yes, skip to STEP 3. Register.
Step 1. Apply to become a CU Denver Non-Credit Student
 Under Start New Application, choose Continuing and Professional Education (screenshot below)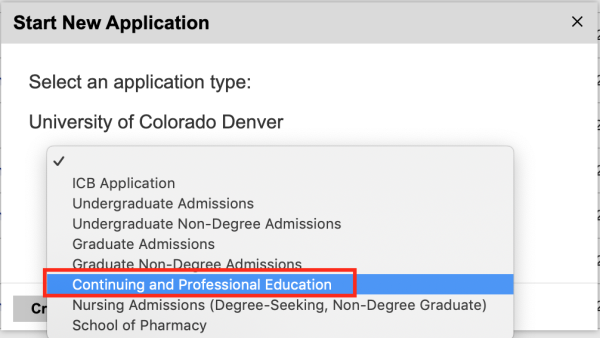 Once the application is open, on the Welcome tab, please select NON-CREDIT as your program (screenshot below)
Complete application information and submit an application.
Please note, to register for the course, a non-credit application must be submitted, even if you have already taken courses at CU Denver. The application is basic and only requires contact information. There is no application fee.
Step 2. Find the email CU Denver sent you
Find the email sent to you from CU Denver after starting your application titled "Important Account Creation Information." Take note of the username in the email and the password you created when starting your online application. This is the login information for your account so you can register for the course.
Step 3. Register
Sign in at ucdenver.edu/access
Under Student Center, Click Register for Classes icon.
Verify personal information and agree to the Tuition Payment Disclosure.
Select term Summer 2023.
Enter the five-digit class number (listed below) into the field "Class Nbr" and click Enter.
Verify course information and click Next.
Select classes from your shopping cart and click Proceed to Step 2 of 4.
Click Finish Enrolling and look for a green checkmark.
Step 4: Pay your bill in the UCDAccess Student Portal
When you are ready to order your transcripts go to ucdenver.edu/transcripts