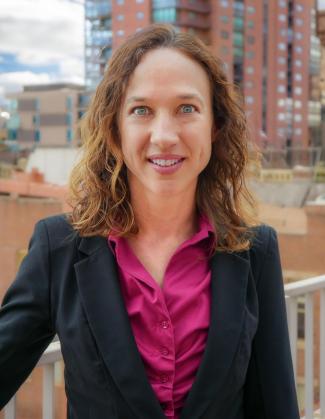 Professor
Management
Traci Sitzmann's research focuses on diversity, equity, and inclusion—including religion and the gender wage gap, the effect of the gender wage gap on firm performance, and optimizing firms' diversity and inclusion strategies. Sitzmann also has numerous publications on the effectiveness of online training, maximizing learning and reducing attrition from training, and evaluating training effectiveness. Her research has been published in leading academic journals, including the Academy of Management Journal, Journal of Applied Psychology, and Psychological Bulletin.  Her research has also won multiple awards, including the Financial Times Award for research that has a real-world impact (2023), William A. Owens Scholarly Achievement Award (2023), Academy of Management Journal (2022) paper of the year, the Parasuraman Award for the best journal article in the field of gender and diversity (2022), Laube Community Impact Award (2022), the Responsible Research in Management Award (2021), and Most Important Industrial-Organizational Psychology Article (2021). In addition, her research has been covered by a variety of media outlets, including The Wall Street Journal, Financial Times, CNN, and Forbes.
Along with serving the university, Sitzmann currently serves as a scientific advisor for the United States Space Force, providing guidance for creating a more inclusive workforce. She also serves on the GlobalMindED board of directors. Prior to joining the University of Colorado Denver, Sitzmann worked as a consultant for the Department of Defense.
Education
PhD, University of Tulsa
MA, University of Tulsa
BS, Iowa State University
Areas of Expertise
Gender & Wage Allocation
Diversity, Equity, and Inclusion
Employee Resource Groups
Training and Development
Self-Regulation
Multilevel Theory and Methods
Editorial Board
Academy of Management Journal, 2021-present
Journal of Applied Psychology, 2014-present
Personnel Psychology, 2015-present
Journal of Management, 2019-2021
Human Resource Management Review, 2017-2018
Organizational Behavior and Human Decision Processes, 2014-2015
Select Publications
All publications are available on Google Scholar.
Awards
William A. Owens Scholarly Achievement Award, 2023
Financial Times Award for research that has a real-world impact, 2023
Academy of Management Journal paper of the year award, 2022 
Parasuraman Award for best journal article in the field of gender and diversity, 2022 
Laube Community Impact Award, 2022
Responsible Research in Management Award, 2021
Most Important Industrial-Organizational Psychology Article in the last 5 years, 2021
Talent Science Advisory Group, Space Force, 2021-2022
Academy of Management Responsible Research in Management Award, 2021
Academy of Management Learning & Education Decade Award, given to the most highly cited paper published in the last 10 years, 2020
Ethics Fellowship Award, Daniels Fund Ethics Initiative, 2018
Fellow of the Society for Industrial and Organizational Psychology, 2018
Researcher of the Year, University of Colorado Denver Business School, 2017 and 2012
Personnel Psychology Best Reviewer Award, 2017
Finalist for the Personnel Psychology Best Article Award, 2015
Finalist for the Academy of Management Human Resource Division's Scholarly Achievement Award, 2014
Academy of Management Learning and Education Best Article Award, 2010
Scientist Practitioner Award, University of Tulsa, 2005
Consortium of Universities Research Fellowship, 2003-2005
Research Stories
Management Professor Received Prestigious Award for Inequities Exposed Through Her Research, CU Denver Business School Newsroom, July 29, 2021
Personality matters when looking at career satisfaction, CU Denver Business School Newsroom, February 6, 2019
Breaking down barriers for women in the workplace, CU Denver Business School Newsroom, October 25, 2017
The modern workplace: Researching the relationship between beauty and women's career success, CU Denver Business School Newsroom, August 21, 2017
Business School professor's study finds video games highly effective training tool, CU Denver Business School Newsroom, October, 20, 2010